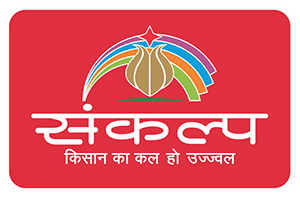 Sankalp
Sankalp Retail is a complete farming solution multi-brand platform which serves as a one-stop solution for all the farming related needs of farmers. Sankalp Retail aims to deliver "Best quality products at most competitive price and best in class farm services" to every customer. The Sankalp retail chain covers following three interventions:
1. Agri-input –
The stores offer a comprehensive range of products such as seeds, fertilisers, pesticides, specialty nutrients, animal feeds, etc. What differentiates the store from local retailers is the promise of 100% genuine and quality products, computerised billing, most competitive prices, attractive offers and free of cost best in class farm advice for getting higher yield and Return of Investment.
2. Farm-advisory –
A farm advisory oriented store that not only sells appropriate products to farmers but also advises them on how to use product for getting best return out of it. Every store has an Agri-Clinic, where farmers can get consultation related to farming such as best practice related to sowing, nutrient management, pest management, irrigation management etc. from expert agronomists, free of cost.
3. Agri-services –
Agriculture services like quick soil testing latest information on weather forecast, farm produce price, etc, are available at all the stores. The retail chain also plans to offer services like facilitation of agricultural loans and insurances, application services and other farming solutions in the future.
Currently there are 58 stores in Andhra Pradesh, Telangana, Haryana, Madhya Pradesh Punjab and Uttar Pradesh. 120 stores are planned in the states of Punjab, Haryana, Uttar Pradesh, Bihar and Madhya Pradesh by early December 2021. The name Sankalp wants to symbolise with "Best quality products at most competitive price and best in class farm services" among the farming community, with a vision to facilitate a better tomorrow for farmers and a mission to partner their journey towards prosperity through right product, right advice and right services.