Serving Since 1972
Our Vision
To be a global brand of choice for customers and other stakeholders through partnership, performance and innovation in crop care solutions.
Our Mission
Constant endeavour to improve the livelihoods of rural communities driven through value added agriculture by providing effective crop care solutions to the farmers across the globe.

Deep Rooted Yet Thinking Big
We are working with the Indian Farming Community since last 5 decades and we are directly associated with the farmers. We are having close knitted network of Field Team and Channel Partner who have a reach to almost all pin codes pan India. We strongly believe in bringing best in class service, global quality product range and technology to Indian Market. Farmer's prosperity and soil health is the underlying mission of our company.
"KRISHAJ"

The company recently rebranded and launched a new logo to reenergize our vision and be showcased in the market with new perspective. The red, golden colours indicate 'Auspicious' and 'Prosperity' respectively, which enlighten the prosperity of the Farming Community.
Our quality promise and our seven core values is what acts as our guiding force that will help us take right decision every day. These are not just values but pillars of strength on which our organization operates.
Uttam, Urvar and Unnat
This logo comprises of three words with "Q" in the centre which emphasize farmers trust in our 'Quality'.
UTTAM- We have excellent product segment which covers from crop protection, to soil health and plant nutrition. We at Krishaj never compromise with the quality of our products. Every stakeholder is proud to be associated with the best in class products that KREPL offers.
URVAR- We ensure that our products are best suited for soil health resulting in maximum productivity accompanied by best quality. Our bio products are designed to act as conditioners for soil health giving plants strong roots and helping in the long term.
UNNAT–  "Bharat Krishi Pradhan Desh Hai", we truly believe on this statement. Each step we take or product we create it is our utmost priority to help achieve farmers double their income. This is substantiated by numerous testimonials given by farmers who have used our products are now our loyal customers.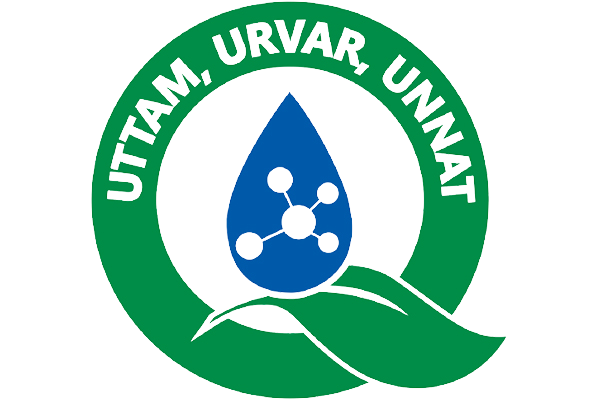 'Unnat Kisan..Sarvunnat Desh'